Tributes from across the balloon community have been rolling in following the sad news that Paul Pearce – one half of the legendary Balloons and Tunes business, which he ran with his wife Pam – passed away on Wednesday 30 September 2020.
Paul and Pam have been well-known and loved throughout the balloon and party community for many years, dedicating much of their time to helping newcomers in the trade with invaluable tips and advice, while also running their own successful business alongside a packed calendar of training events and opportunities.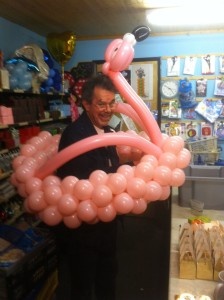 A natural entertainer, Paul was the life and soul of any industry event and was also very active within his local community, running local discos and fundraisers, chairing a community radio station and acting as 'The Balloon Man' at local theme park Drayton Manor.
In the balloon and party world, Paul and Pam became Qualatex Certified Balloon Artists in 1999, were named UK Large Balloon Sculpture Champions in 2001 and Balloons and Tunes still remains the only UK company to receive the Industry Award of Qualatex European Balloon Decoration company of the Year.
Working as a team, the pair won countless industry awards for their centrepieces and sculptures at UK Party Shows and NABAS events while also working with balloons on a daily basis, running training events at their Midlands base and attending others all over the UK, Europe and the USA.
Paul also did a great deal for charity, working closely with Birmingham Children's Hospital and providing his services for celebrations and parties as well as St Giles Hospice, Tamworth Wellbeing and Cancer Support Centre and many, many others.
"It is with deep sadness I have to report the passing of Paul, my Mr Wonderful, my soulmate, my Peter Pan," Pam told PartyWorldwide.net. "What can I say about such a loving, giving, generous, amazing, talented, hardworking, devoted, funny and happy person?"
"He bought smiles to the faces of young and old with his balloon models and many have stood in awe at the gift and sheer talent he had for this craft," she said. "And this amazing man did it all with genuine grace, love, care, fun and a big sense of gratitude and love to the people around him. Your wings were ready Paul but our hearts were not."
While publicly being the heart of the party, Paul was also a quiet family man who loved his family. He left behind him a wife he adored, two grown-up daughters and two beautiful young grandchildren.
A Just Giving page has been set up in memory of Paul, with the proceeds planned to go towards helping local causes close to Paul's heart.
Tributes from the ballooning community:
"You would probably have to go to the ends of the earth to find another couple so entirely devoted to each other as Paul and Pam. His humour and gentle nature ready to please right to the end has touched thousands upon thousands of people, and I for one am extremely grateful to have known him."
Joanne Power, Make Me Smile Balloons

"Paul made me smile, he was a genuine kind-hearted soul. Our paths first crossed between a Ferris Wheel and a Totem Pole at the International Halloween and Party Show almost 20 years ago. His sense of humour snd silly innuendos were a giggle and he truly was one in a million! Imagining a world without Paul is truly unexplainably hard. My love and prayers are with Pam at this time."
Jo Higgs, Balloon Training Academy
"It is such a sad loss. Paul was genuinely a caring, friendly and helpful person who absolutely loved what he did. I worked with him on a few occasions and all he ever wanted to do was to make people smile. Our thoughts and wishes go out to Pam and the rest of Paul's family."
John Bowler, BAPIA
"Even though our paths diverged and I've not seen Paul for some time, I remember him as one of the most vibrant and passionate people in our industry. His enthusiasm for everything and his boundless energy were infectious and could not fail to draw everyone around him into his world of wonderment. My thoughts are with Pam and everyone who had the good fortune to know Paul. He will be greatly missed."
Chris Horne, Amscan
"Pam and Paul were my tongue-in-cheek Midlands secretaries for running the Care & Share balloon days. I always enjoyed it when we worked together, running workshops for each other on a few occasions. Then listening to Pam talk, (add a wink here) and then getting Paul's jokes – well I say jokes, he was non-stop with comments and quips that would always make you smile and groan at the same time! A good old pro and a very lovely person to boot. What more could one wish for. Happy memories Paul."
Graham Lee, Balloon Art
"Having heard the sad news about Paul a memory came to mind which just made me smile, where I was asked to provide four balloon drops for a local theatre to kick off the pantomime season. When I phoned Paul he took the time to go through the rigging with me, pointers to look out for and just general help and tips in general. Needless to say the job was a complete success and this was all down to Paul. He will be greatly missed by the industry."
Debbie O'Neill, Wow Balloons
"Paul was a much-loved member of the balloon community, one half of a professional team who passed on his knowledge to anyone who asked for help. Paul was respected and I clearly remember the wonderful Balloons and Tunes band competition entry at IPHS in Telford. Rest in peace Paul."
Lucy Hennessey, Balloon Power

"I am so sad to hear the news. Paul had a wonderful, colourful character. I will always remember Paul for how much he cared about what he did and how great a balloon decorater he was. I am sure he will be missed by so many."
Rita Kyriacou, Marguerites