BAPIA is the Balloon And Party Industry Alliance. We are an independent trade organisation working on behalf of our members and the industry, and we have set ourselves the following mission statement: 'It is our mission to support our industry and the professionals within it by promoting a best practices policy to create positive and sustainable growth.'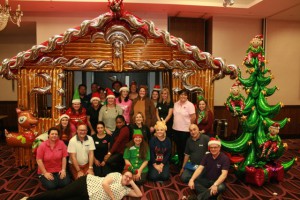 We aim to promote our members and the industry to the public and encourage the use of professionals for all balloon and party needs. We aim to act as a unified voice for balloon and party professionals and we will represent our members on industry related matters and bring benefits and information to assist in the growth and security of their business.
Some of the benefits that members receive are:
• FREE Public & products liability Insurance cover with AVIVA up to £5million
• FREE Employers Liability Insurance cover with AVIVA up to £10million
• FREE Legal Insurance Cover with AVIVA up to £100,000
• 24/7 Legal & Tax helpline
• Counselling service for you and your staff
• Exclusive discounted business insurance package specifically designed for the balloon and party industry. www.bapiaonline.com/businessinsurance
• Promotion through BAPIA website
• Referrals from national accounts and public enquiries
• Access to private Facebook group for networking
• Hard copy newsletter
• Access to AVIVA "cut the red tape" business support website
• Access to exclusive BAPIA events such as GOSH (Great Ormond Street Hospital) Christmas party class.
• Webinars
• Training and educational support
• BAPIA is a member of the European Balloon and Party Council and is therefore kept updated on European industry issues.
BAPIA membership is £160 per year
To join go to www.bapiaonline.com/join
To contact us e-mail info@bapiaonline.com or call +44(0) 208 123 1746