The summer issue of Progressive Party Europe is available to read now, bringing you all the news, views and great content from right across the party and costume industry as we continue to deal with the effects of the Covid-19 pandemic.
It's been a difficult few months for businesses and retailers in general and the party industry hasn't escaped that, unfortunately. Reports reveals that high street retail sales have begun to pick up, but there is a long way to go as the UK officially enters recession for the first time in 11 years.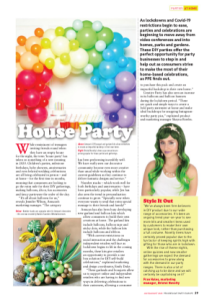 Despite this, balloon artists and retailers have been able to focus on driving business forward, making the most of consumers continuing to celebrate birthdays and other events at home. As a result, many of them have increased sales over the last few months and are reporting having to turn work away as they are so booked up.
It's hugely encouraging to hear and we can only hope it continues as organic social media marketing and word-of-mouth continue to help to drive business.
As one of the fundamental cornerstones of the costume, party and balloon market,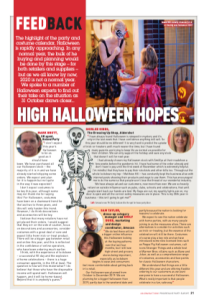 the question of what this year's Halloween will look like has been dominating the conversation over the last few weeks. Never one to shy away from the big questions, we have dedicated this issue's Feedback pages to exactly that issue – and it's great to see that the general consensus is one of both positivity and determination.
We have also taken a look at the (unsurprising!) trend for house parties, as well as the latest licensed party product and found out exactly what makes Tip Top Balloons tick. It should be enough to keep you going until the end of summer at least, when our attentions will of course turn to all things spooky…
On that note, we are already working on a very special Halloween special edition to follow hot on the heels of this issue, in addition to some exclusive digital and online features designed to help both retailers and suppliers at the busiest time of year  – there's plenty to look forward to!
As ever, please drop us a line with any news, views or anything else you'd like us to look at in the future.