Stanley Geller, chairman of world Halloween giant FunWorld, has passed at the age of 94. The following tribute has been written by Sergio Battaner, sales and marketing director at Palmer Agencies (the European distributor for FunWorld), who had worked closely with him for the last 16 years.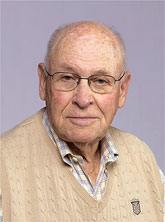 "Stanley was a true pioneer of the party industry and a Halloween trailblazer but, most importantly, was a great human being who believed in hard work, discipline, friendship, honesty and integrity.
In April 1963, Stanley Geller bought the business from his father-in-law, with revenue of approx. $500,000 and renamed the company FunWorld, Easter Unlimited. He travelled to Japan by propeller planes on buying trips and developed strong relationships with factories there, and sold goods by traveling the roads of the USA in a station wagon filled with samples, going from Minneapolis to Miami, Boston to Bentonville, New York to New Orleans and everywhere in between. Life was tough but good, and the business grew and grew with the help of many people.
FunWorld started out working with factories in Japan and then moved to Korea and Taiwan and Hong Kong. President Nixon opened China in 1973 and it quickly became the main source of supply. Currently, the factories are located in the USA, China, Viet Nam, Cambodia, Spain and India.
Stanley was succeeded in 1981 by his son Alan Geller, who gave FunWorld a real jump start in Halloween when he lead the company during the growth of the Halloween business. FunWorld became the reference in Halloween and party product and his creation – the Ghost Face mask and costume – was born and soon became part of Hollywood history as the lead character of the Scream movie franchise. It was 'an icon of Halloween', according to the NY Times.
The FunWorld family now consists of hundreds of employees, independent salesforce and distributors and maintains a presence in warehouses, showrooms or offices all around the world. Under Stanley's chairmanship, progress and growth also became development and acquisition. FunWorld are now one of the largest Halloween creators and suppliers in the world, selling in every continent except the Antarctic!
Stanley maintained that: "We are always doing things the second best way", meaning there is always room to improve. This perseverance, combined with innovation, made FunWorld a highly respected leader in the industry.
Stanley had a witty mind, a funny character, a sharp business sense, a caring personality, an honest backbone, a wonderful knowledge and experience, and an exciting attitude towards life. He leaves a tremendous gap that we can only hope to fill with our affection to his family, gratitude for his endeavours with FunWorld and remembrance of his unique personality.
He will be profoundly missed all over the world, even in the Antarctic!"