Based near Richmond in South West London, A Party Palace is a party, costume and balloon décor business which celebrated its 12th birthday earlier this year. In between navigating the latest lockdown restrictions, owner Adrienne D'Souza revealed what is behind the store's success.
Tell us about A Party Palace?
"There are six of us; one full timer and a fabulous bunch of multi-skilled part-timers. I am very blessed with my team. We really have held each other together since March and they blow me away! The store is about 1200sq foot. In the old days it used to be a car showroom so we're very lucky to have three shop windows."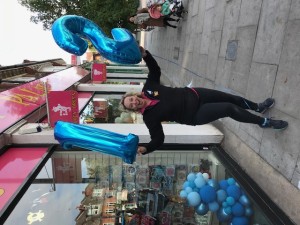 How many orders did you take last weekend?
"Ah, you ask that because you assume that weekends are still busy? It's all changed in these bonkers times. Our busiest days are Tuesdays and Wednesdays – the world really has gone mad!"
What changes have you made to the store post-Covid?
"So many! Removed fixtures, changed return policy on wearables purchased in store, sanitizer everywhere, staff training, cleaning, become as cash-free as possible, risk assessed until I can't see straight! Who ever imagined that this would be how 2020 would work out?!"
What was your best-selling item for Halloween?
Top liners: props and decorations. Loads of skeletons (thanks to Palmer Agencies and Boland Party), paper decorations (Party Deco). It was such a basics year. No one was doing huge creative projects, it was very traditional."
What have been your five best-selling products for 2020?
"It's all about balloons and decorations for us this year. Piñatas (best year ever), air-filled 'Happy Birthday' banners, number helium balloons (Oaktree's new numbers are totally brilliant), Globes/Orbz and candles. I've found a new passion for candles, there are so many gorgeous ones available now."
Any Christmas predictions?

"We've just put some Christmas balloon designs together. We're thinking Santa suits will be popular, Christmas dress-up items that work well on Zoom – basically as much joy as you can sell. People want anything that can add fun to this bonkers situation. I'm also really eyeing up the new wig range Manic Panic from Smiffys, I think they have great potential on lots of levels."
Facebook, Twitter or Instagram?
"We do all three but we work particularly hard on Instagram. It's been worth it as we get lots of engagement and receive lots of enquiries and orders through our page. We've learnt to have a laugh with it. The more fun you have the more people love it!"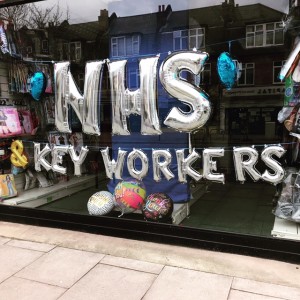 Tell us about your best customer of the last month?
"We have some awesome customers. The best spender was a company sending out themed boxes on behalf of a big corporate client for bonfire night, who used us to put the face paints and glow sticks in. They purposely avoided using Amazon so we love him a lot!
There's a lot of concern amongst customers that we're still here at the end of this so they keep checking up on us which is making us feel appreciated."
What's the single most important thing you have learnt from the past year?
"Be brave and smile, keep pivoting, think ahead and work out all possible scenarios, have a plan A,B,C and D… Also, engage with other retailers. I've had lots of Instagram chats with fellow retailers and it's been really helpful when you're feeling a bit lost.
Any final thoughts?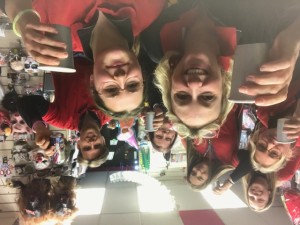 "Just a thank you really. This isn't just tough for us but also some suppliers too are really feeling it. Matt from Smiffys saved the day just before Halloween when an order went astray that we desperately needed. He re-picked it and drove down to us (at least three hours both ways!). How amazing is that? Sergio from Palmer Agencies couldn't have helped more over Halloween either. The gang at ITI (UK) were also amazing when we were trying to gather some stuff together for VE Day. We're sometimes really quick to judge and in our industry but they've been so supportive to us over this time. So really this is just a big acknowledgement that they've really tried to do whatever they could."