Hi Jelle! It was great to see you at the shows at the start of the year. How has 2018 been for you so far?
"It has been good and pretty hectic! A bunch of new people have joined the business recently and 2017 was another big growth year, so we're just building on from the successes we've seen. Within our economy brand Suitmeister, we've now also launched a boys and womens line which has been received well. Furthermore, we are now rolling out a line of shirts to go with our suits, both solid colors and prints. Our creative team is currently working hard to develop new products for 2019 seasons, while our sales people are working hard to sell our current range for the upcoming big seasons."
Sounds busy! Can you choose a personal highlight out of all of that?
"The success of our OppoSuits Boys line which launched last year. Due to that success, we believe that the boys opportunity is also there within our Suitmeister range. With the recommended retail being only £29.95 / €34.95 for the Suitmeister boys product, it's an incredible price point that I'm convinced will do very well within the party market."
What's coming up for OppoSuits over the summer months? Any new lines we should all be aware of?
"We have launched a number of new summer styles both in a regular and summer version and our s/s season kicked off some time ago, especially here in the US. Last weekend was the Kentucky Derby and our Shineapple design was all over the place!
Spring/summer is becoming more important for us each year, especially on the fashion side of things. Suits and blazers are becoming more casual every year and all over prints are very hot. The prom season sees more youngsters wearing something fun so that is a big growth market for us. We have had a lot of success with some of our summer designs within the party industry too, especially the Flaminguy print."
With the new Star Wars, Marvel and Harry Potter suits, has licensing become more important to the OppoSuits range?
"Definitely. While being the market leader within the suit category that we created, we obviously have seen some similar products entering the market. The licensed suits give us a form of protection and licensors are keen to do a deal with the category leader, which is why we have very strong licenses such as the ones you mentioned as well as PAC-MAN and Tetris. Furthermore, we're talking to some new exciting licensing partners.
We have made a very good decision early stage to develop our own 'knock off' if you like and this line, Suitmeister, has been growing strongly, especially within the party industry whereby pricing is super important. This year is the first year that we've also started developing licensed products within Suitmeister too."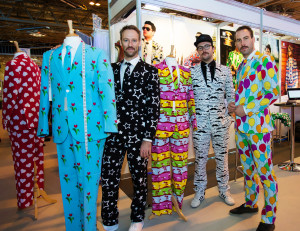 And finally, OppoSuits is well known for its clever marketing and use of social media. What's been your favourite campaign and why?
"It wasn't so much a real campaign and no one would really know about this but my favourite part was probably right at the start of the business when a news reporter did a piece about us. Our creative director Jasper had photoshopped his own moustache onto Guus and myself for a laugh and included it with a range of other pictures to be sent to the reporter not expecting this bizarre photo to be used.
The next day, this image was the main picture of a large feature within a newspaper in Holland with many friends and family texting me that they had no idea I had grown a tache. Fake news! You may not recognise us anymore – that's what a few years of building a business does to you."
Thanks Jelle, have a great weekend!