Morning Ray! How are you today? Looking forward to the royal wedding?
"It's all I can think about! In all seriousness, from the moment we heard the announcement, we knew we'd have to act fast and capitalise on the opportunity. We updated the masks so that Harry has his lovely beard and added a Meghan mask into the collection. We had 18,000 made initially and they started selling almost immediately, even before Christmas."
What do you expect to happen over the next four weeks as we approach the big day? Are you ready for the rush?
"In a word; yes. We are pretty sure we know what to expect and have planned accordingly. Joe and I have been speaking to retailers when they've been placing orders, so we have been able to build a good picture of what's happening out there. Bricks and mortar stores are the big winners with an event like this, they are able to put the masks in a window or on display so they have really seen sales grow. In fact, the growth has been almost exclusively driven by independents as they are able to react quickly and place orders – and we're delighted with that."
Sounds like you're going to be really busy! Will there be enough?
"Oh yes. There's no denying that we are moving a huge number of the masks at the moment, but there's new stock arriving in the warehouse as we speak. Clever retailers will start stockpiling them now, but no-one needs to worry, we'll be able to satisfy all demands!'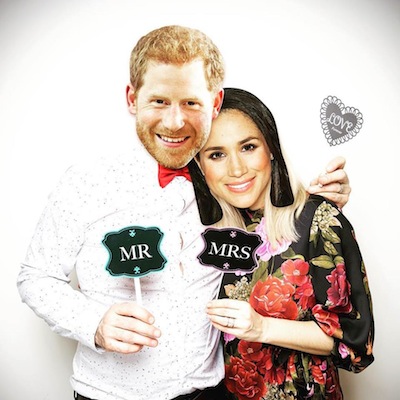 Royal family aside, it's been a busy year for you so far. You launched three new lines at Spielwarenmesse and Spring Fair. How were they received?
"Extremely well! Bugalugs, Chinless Wonders and Goggle Eyes were a huge hit. We had people stopping in the aisles at both shows – it felt like the old days! We had to replenish stock every single day, especially at Spring Fair – we did give out lots of samples, but also had almost 80 packs stolen. So we know that people want them. We sold out of our initial stockholding at Spring Fair and had some really interesting conversations with international stationery companies at Nuremberg – they're a great price point for the retail trade so we knew they'd do well, but we're over the moon with the response."
And is there much other 'new' in the pipeline?
"Absolutely loads. We've been really concentrating on producing a lot of new faces – Tom Hardy, Ed Sheeran – and we'll be showcasing all of those as well as the old favourites. We're having such good fun coming up with new ideas – I haven't been this excited since the last royal wedding!"
Finally, the London marathon is this weekend and runners have been officially advised to rethink their fancy dress. Does that apply to masks as well?
"Not at all! Our masks offer runners and spectators vital shade, and at just 25g are a handy lightweight accessory. We'll be watching the telly this Sunday, hoping to see lots of our masks in the crowd. Divisive politicos are always popular for these big events so I expect to see a few of our 'Four Hoursemen'; Michael Gove, Diane Abbott, Jacob Rees-Mogg and Jeremy Hunt. And I'm sure Harry and Meghan will be making the odd appearance as well!"
Thanks Ray! We'll keep our eyes peeled…