The annual issue of Progressive Halloween, with all the frightening goings-on of the party business in the lead up to 31 October, is available to read online now.
It can feel sometimes as though you overcome one hurdle, only to be immediately faced with another. This time last year, suppliers and retailers alike were struggling to optimise Halloween sales due to shipping delays, and being unable to get stock where it needed to be ahead of the main event. Fast forward a year, and we're planning for Halloween amidst a global economic crisis.
The one thing that remains a constant throughout however (I've said it before and I'm sure I'll say it again), is the party industry's unwavering positivity. That, coupled with consumers' seemingly unfaltering dedication to celebrate events and come together with friends and family, no matter what's going on in the economy. Despite everyone cutting back on non-essentials in so many areas of life at the moment, it seems that Halloween is not one of those areas.
Our industry is upbeat, and looking forward to another potentially record breaking Halloween, as pre-orders, sales and optimism among retailers are high. There is a number of top licences sure to help boost sales, and although not instantly thought of as a Halloween brand, Barbie is on everyone's lips as we head to the spooky season. Others including Super Mario have benefited from movie releases this year, while streaming hits like Wednesday, M3Gan and Stranger Things are also set to be big. Read more in the Halloween feature here.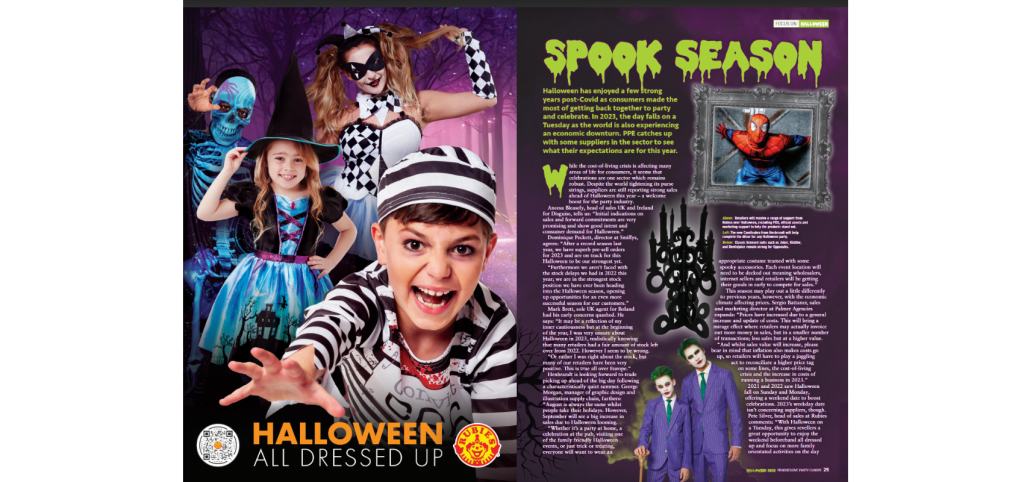 Halloween falling on a mid-week Tuesday this year isn't phasing anyone, and double celebrations the weekend before and on the day itself are expected instead.
While many of you spend all-year planning and working on Halloween, one organisation in the US works on nothing else. For the Halloween Costume Association, Halloween is the only focus for the organisation and its members. We chat to executive director, Michele Bolystein in this issue to find out more about its services and work in the industry.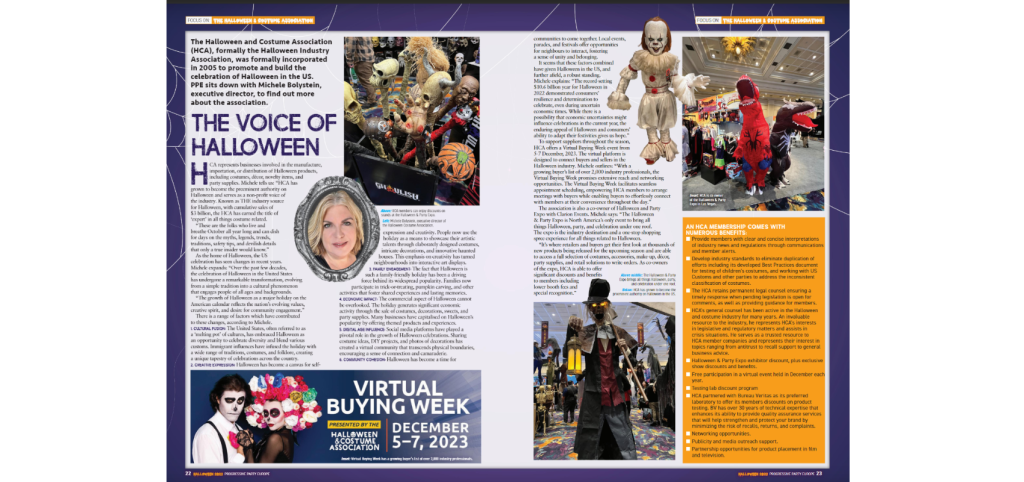 Elsewhere, Amscan's Lisa Norris takes the hotseat for Executive Profile, and our regular columnist, Ed Avis, executive director of the National Costumers Association, is back with top tips for increasing footfall into party stores.
Other than that, it's all about Halloween – your hopes, expectations, plans, and of course, new products are all here.