US-based balloon company TUFTEX balloons has secured a deal with its first-ever UK distributor – Balloon Supply UK in Godalming – as well as new relationships with other distributors and suppliers across Brazil, Canada, Honduras and New Zealand.
The high-quality TUFTEX Balloon brand has been made by Maple City Rubber in Norwalk Ohio for more than 100 years.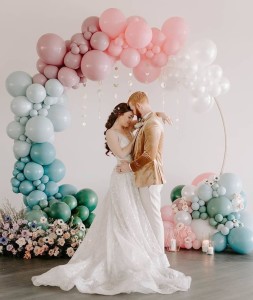 Owned by Alison and Mike Will, the balloons are known for their durability and their focus on colour, thanks to the recently-launched Naturals Collection.
"We have begun to focus on appealing to the balloon decorator industry," explained Alison. "We are all about colour! We want to bring all the colours of this world to all the people of this world!
The Naturals Collection was released in January at the FLOAT Convention 2020 (in St. Louis, Missouri). The colours include canyon rose, fog, blue slate and willow and are terrifically deep, rich and opaque.
"Many stylists mistake them for double-stuffed due to their opacity and unique colours," expalined Alison. "We like to refer to them as 'balloons for grown-ups' as they are perfect hues for weddings, cocktail parties and bridal parties."
The new range has been a big hit in the US and is already proving to be equally popular in the UK and other new territories, including Australia, where they will be available from this summer.
A second colour collection is due to be launched in August.