With less than 24 hours to go before Halloween 2020 officially begins, the UK media has been making the most of the opportunity to talk about all things ghoulish. From the latest fancy dress trends to prime-time live TV interviews and of course official guidance on trick-or-treating, there's been something for everyone.
The UK media has been making the most of the opportunity to talk about Halloween this year, particularly about the way that Covid has affected plans for the big day itself and sales in the run-up.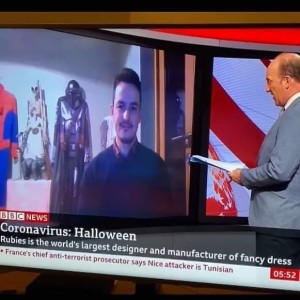 This morning (Friday 30 November) got things off to a strong start when Fran Hales – marketing manager for both Rubie's UK and Bristol Novelty – appeared on BBC News, speaking about the affects of Coronavirus on the nation's plans for Halloween – and ultimately about how that will affect retailers and suppliers.
Elsewhere, local BBC radio stations spoke directly to retailers, with Radio Derby interviewing Jollyjester's Kate Moore, while Radio Suffolk spoke to Masquerade's Sally Baker about the difficulties faced by fancy dress retailers this year and how they have managed to remain positive in the face of this year's difficulties. The radio interviews can be listened to here and here.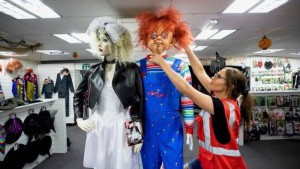 Keeping Halloween high on the agenda at the BBC, Smiffys also spoke to the team at BBC News for a feature focusing on the difficulties faced by Halloween firms this year. Speaking to director Dominique Peckett, the piece looked at how Smiffys has adapted its usual messaging for this year's celebrations.
"We always planned for the likelihood that the coronavirus would be around for October, and indeed the whole of this year," Dominique told business reporter David Silverberg. The article can be seen in full here.
A number of independent fancy dress and retailers have also spoken directly to their local press in order to drive publicity and encourage sales. Putney's Jerusalem Costumes and Fulham's Party Circus came together to call on local families to dress up and make the most of Halloween, while Kim Ria, who owns Pairs in Romford, has appealed directly to parents looking for a bargain as she reveals the impact of the restriction on this year's trade. It's a similar story in Northern Ireland, where Clark Elliott, managing director at Elliott's fancy dress, stresses the significance of shopping locally during these uncertain times.
Elsewhere, the news has focused primarily on how people can celebrate safely and whether or not trick-or-treating is possible, safe or even banned. Of course, in the UK, much of this will depend on the regional restrictions and how they vary.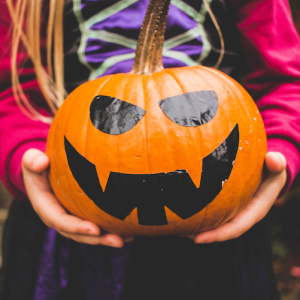 In England, the prime minister's official spokesman stated that trick-or-treating can take place as long as the local restrictions are followed. He also added that people would have to use their common sense.
In Scotland, trick-or-treating has been strongly discouraged by the government, with deputy first minister John Swinney saying that it creates 'an additional and avoidable risk of spreading the virus', adding: "our clear advice for families is to avoid it."
In Wales, Halloween falls during a 17-day firebreak lockdown, meaning that meeting people from other households, either indoors or outdoors, is simply not allowed.
As a result of these restrictions, most news outlets and local councils have issued advice, ideas and suggestions on safe ways to enjoy this year's Halloween celebrations, with ideas ranging from parties and Halloween trails to craft ideas and the safest way to trick-or-treat (individually-wrapped sweets!).
Finally, and perhaps reassuringly, we have also seen the more traditional raft of articles about the best Halloween costumes for 2020 – with many taking inspiration from their experiences over the past year, which goes some way to explaining the current appetite for hand sanitiser and Tiger King costumes.
We know the last few months have been unimaginably hard for many of you, but with a number of reports showing a slight upturn at retail during this final week, we hope that will continue right through until the big day itself. Good luck and, most of all, Happy Halloween!