The organisers of Spielwarenmesse have announced that the 2021 show – scheduled to be taking place from 27 to 31 January – will be going ahead thanks to a range of detailed health and hygiene measures.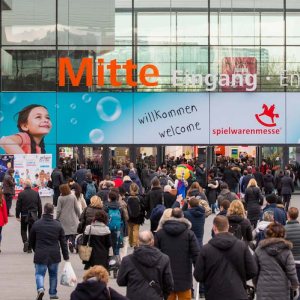 Nuremberg toy fair is an essential date for much of the European party industry, with two halls entirely dedicated to carnival products, dress-up and other festive items and exhibitors and visitors attending from around the world.
In order to ensure that next year's show can take place, show organiser Spielwarenmesse has collaborated with venue operator NürnbergMesse and the relevant health authorities to develop an ongoing, detailed health and hygiene concept. Based on the requirements of the Bavarian State Government, the measures will be continually updated to reflect any changes as they emerge.
"In all our efforts to stage Spielwarenmesse 2021, the health and safety of the participants is our top priority," stated ceo Ernst Kick.
The most important pillars of the concept are: social distancing, hygiene, and track and tracing.
According to current regulations, it is essential to maintain a social distance of 1.5m between individuals across the entire exhibition site and at meetings. As such, the layout of the halls is being improved and wider aisles are being created, with special areas and stand parties being put on hold.
Other measures will include wearing face masks indoors, thorough handwashing and the observance of coughing and sneezing etiquette. Onsite, all surfaces such as restrooms, tables and door handles will be cleaned and disinfected at short and regular intervals. Modern ventilation systems will supply the halls with fresh air, ensuring that the air is exchanged completely several times an hour.
Participants will only be admitted to the Spielwarenmesse if they are in good health. A qualified team of medical staff will also be on site to provide any necessary emergency care.
In order to ensure an effective track and trace system, all exhibitors, visitors, media representatives and service providers must register in advance of the event. Exhibitors will also be required to keep a contact list for all customer appointments held at stand tables where masks are removed.
"When it comes to personal encounters and sound buying decisions, trade fairs are more important than ever," Ernst continued. "Particularly in our industry, they are an indispensable driver of growth. That is why we're doing all we can to stage Spielwarenmesse 2021 – the most important industry hub of the year – while ensuring that it is as safe and enjoyable as possible."