The executive vice president of Rubie's Costume Company has been presented with a lifetime award by Disney at the annual showcase, which took place at Kings Place in London earlier today.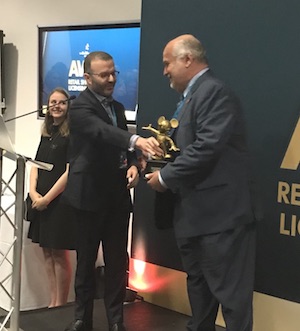 Disney's AW19 Retail Showcase gave licensees, retailers and other industry experts a preview of what's in store across the entire Disney brand portfolio, including Pixar, Disney Live Action, Disney Classics and Star Wars. The day's events were then followed with a prestigious awards ceremony and drinks reception, where Howard was presented with the award.
Howard – who is better-known as Howie throughout the industry – is the executive vice president of Rubie's Costume Company and has been working closely with Disney for many years.
He was presented with the prestigious award by Simon Phillips, The Walt Disney Company's executive vice president and general manager, consumer products.
"At Disney we don't always give out a lifetime achievement award because when we do, we take it very seriously," said Simon, as he prepared to present the award. "The individual who recieves the award has to have contributed something not just to Disney but to the industry that is so monumental that they can be an indictee into the Disney Hall of Fame."
He continued; "This individual always produces the very best product for us, their company is synonymous with Disney. Every franchise that we produce, they produce. And they produce it with a smile on their face and bring smiles to the faces of people around the world every day. Especially on Halloween!"
Rubie's European relationship with Disney began with High School Musical in 2006 and has now extended to the entire Disney and Marvel portfolio as well as Lucas Films.