As sales director for UK distributor Northwest Greetings – which is currently taking on new helium customers – Jason Knowles talks about helium shortages, price rise and what the future may hold.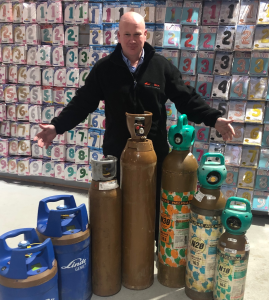 How has the helium shortage affected your business over the last year or so?
"The helium shortage has had an adverse affect on so many businesses in this industry – ours included. Half the problem has been people spreading rumours and causing panic, so we have tended to go with the official line posted by both BOC and Air Products."

How have you seen it affecting your customers and their helium accounts?
"It has affected less people than we would have expected, mainly due to good management of helium supplies and the ability to sell less helium dependent designs. This has been a significant shift in the market."
Has it been difficult to maintain customers' orders?
"We have had to manage the expectations of our clients and we're quite proud to say in all this time we haven't run out of supplies. We have a great working relationship with both BOC and Air Products and at one point we were offered a further allocation at a premium, which we as a company absorbed to keep the market buoyant."
What are your prices like – have you been able to hold them at all?
"Our prices increased inline with market forces but we tried to remain competitive. As I mentioned earlier, we have absorbed some costs to keep prices keen. It's also helped that our online sales have grown immensely which has helped lower costs as well."
What do you think the future holds for helium in the balloon industry?
"We think the helium crisis has been a wake-up call to the industry and we would expect to see shortages in years to come to surpass the ones seen recently. I think in the short term we will see a sharp uptake in helium sales as customers look to secure a small stock holding of supply. We don't see prices coming down in the immediate future as demand increases but once the market settles down over the summer we would expect prices to become more favourable. On a final note we would like to thank our customers for their continued support and understanding through this testing time."
To find out more about openeing a new helium account with Northwest Greetings, prospective customers should email Jason@northwestgreetings.co.uk.