Professional US costumers' organisation The National Costumers Association (NCA) bought the industry together earlier this week with a webinar designed to help costume retailers as they prepare to reopen across the US.
The webinar – which was open to both members and non-members – saw NCA executive director Ed Avis speak with three costume shop owners who have reopened: Janine Caufield of Caufield's (Louisville, KY), Caren Bricker of Vintage Ooolee (Augusta, GA), and Helen Goncalves of Metro Boutique (Portland, OR), who discussed their experiences from the 'front line' of the crisis.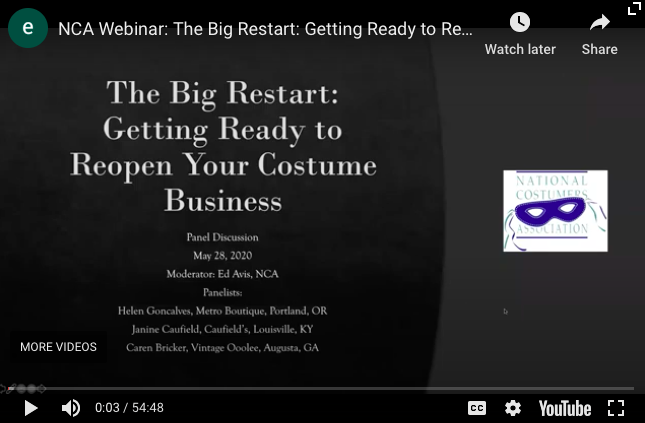 Ed opened the webinar by speaking briefly about the results of the recent NCA survey, which showed that most costume retailers in the UK had reported a 'tremendous loss of business, which was no surprise'. A live poll then revealed the status of the retailers attending the webinar; 44% were entirely closed, 44% were offering online sales and just 12% had been able to remain open.
The shop owners then went on to share how they had prepared to reopen, how things are going so far, what surprises they've encountered and what they think the future holds.
The webinar can be listened to in full online.
The National Costumers Association was founded in 1923, bringing together a small group of costumers dedicated to upgrading and promoting the costume industry. Through the years both the association and the industry have grown in size and scope, promoting the artistic, historical, educational and social nature of costuming, encouraging ethical business standards.
Find out more at https://www.costumers.org