Last week's online Moscow Balloon Festival – which took place from 5 – 9 October – was a resounding success, featuring workshops, competitions and a range of interactive classes. Balloon brand Gemar had a significant presence at the festival and so brand and global sales director Gloria Veta spoke to show organiser Europa Una Trade about reasons to stay positive in 2020.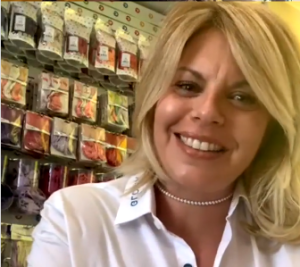 The interview – which can be seen in full online here  – spoke about navigating the Covid crisis, Gemar's approach to sustainability, and how online events like the Gemar Flash Mob and the Moscow Balloon Festival have had a positive impact on the balloon community.
How did Gemar cope during the difficult times when Covid first arrived? How did you stay positive? 
"The most important thing for us was to look after the health and safety of our workforce, and make sure that we continued to serve our customers around the world. Our approach was to stay calm, be patient and do our best to manage things on a daily basis. By being flexible and resilient we could take care of the crisis management while still looking for opportunities."
How is the production process managed at Gemar? Was it affected by Covid?
"We did our best to keep the production process going throughout. Balloons proved to be a very resilient product and continued to sell really well despite the circumstances. Things slowed down during April, but I'm proud to say that today we're back at pre-Covid production levels.
We make, on average, over six million balloons per day. The whole production process takes place in Casalvieri in Italy, through three separate facilities – one for manufacturing, one for printing and one for packaging."
Have Gemar managed to launch many new products despite the quarantine?
"We just launched the 'Tiny Shiny' range and before that, we launched 'Shiny Rose Gold', along with a whole new series of prints in this range, which has been very successful."
Do you plan to do another Gemar Flash Mob? Where did you get the idea to do this? 
"The first Gemar Balloon Flash Mob was born out of the lockdown. We wanted to bring our community together at this difficult time and on 21 March, we announced a series of online classes, free to our whole balloon community. With the help of our Ambassadors and Masters, we created the first virtual balloon Flash Mob. It was such a success with so many people joining in and sharing their favourite moments, we decided to launch our first Virtual World Tour. Our Partners around the world hosted us on their social media platforms as we continued providing online classes, training and support.
We created more than fifty videos and class notes from these events, and we've turned all of that material into a resource and made it available free to the Gemar community. This was a really positive opportunity to come out of a difficult situation."
How do you feel about the Balloon Festival and all the other events you normally run being cancelled this year? 
"We knew it would be impossible to hold face-to face events this year. By March we had cancelled all our Gemar Days, all our events and conventions. But thanks to technology we can still get together at online events like this week's Moscow Balloon Festival.
Although it's a little different this year, it's still a wonderful opportunity to celebrate the talents and skills of so many people creating such wonderful balloon art. For me this is a big positive."