Jollyjesters' owner Kate Moore spoke to BBC radio presenter Simon Morykin in a live interview which aired on BBC Radio Derby on Saturday 25 July, focusing on the difficulties faced by fancy dress and costume retailers during the Covid pandemic.
Simon introduced Kate onto his Saturday morning show, explaining that the Swanwick-based fancy dress shop is struggling to stay open 'after facing the worst six months in its 30-year history'. The shop – which offers a mix of pre-packed and hire costumes – is now open on an appointment-only basis.
Simon went on to explain to listeners that sales are scarce thanks to a lack of parties, carnivals or festivals taking place at the moment, meaning people aren't looking to buy fancy dress outfits in the same way.
Kate – who also spoke to PartyWorldwide.net earlier in the year – remained upbeat and good-humoured throughout the interview, pointing out that: "We have to stay jolly, because if we don't, we're all lost aren't we! We have just got to look forward to it all coming back really, although I don't know where and I don't know when."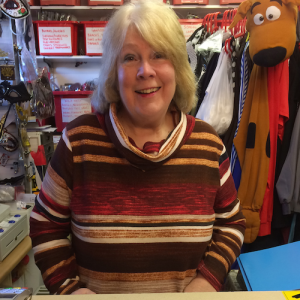 Kate's positive outlook didn't mean that she shied away from difficult topics though. When asked how the past four months have been for your business, she was brutally honest, describing them as 'absolutely dire'.
"There were the weeks when we were closed of course, where obviously we weren't selling anything," she explained. "And then we could open from 15 June – but without any parties, without any carnivals or hen nights, without any of the Butlin's Big Weekends coming up there was just no point, there is just no demand."
"I feel so sorry for fancy dress shops in town centres, paying huge rents to just to keep things afloat. Luckily I'm not in that position, but it's hit all of us…. And of course people who do want things have got more into the mindset of buying online. Who wants to go into a shop if you have to wear a mask and can't try a costume on because you're not allowed to use the changing room? We're putting all our hopes on Halloween and hopefully not getting a second wave during October."
Simon and Kate also discussed the various benefits of shopping in person rather than online, with the benefit of expert advice and being able to choose costumes without having to worry about having to send it back if it doesn't fit or look good, as well as the difficulties in washing intricate hire costumes at high temperatures. 'They'll disintegrate!"
To close, Simon asked Kate how long she will be able to afford to keep the shop going if this continues.
"Well, the SEISS grants (UK government grants for the self-employed) have been a godsend but they finish in August. After that we're putting in all our hopes on October for Halloween…"
To listen to the full interview, click here and begin listening at the 35 minute mark.