Morris Costumes is a family-run business that is now in its third generation and is now one of the largest costumes distributorships in the world. Scott Morris spoke to Ed Avis, executive director of the NCA (National Costume Association), about what he is seeing for this year's Halloween.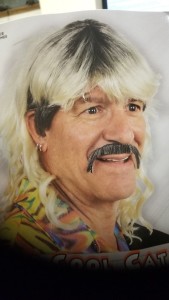 Ed: How are Halloween sales going at Morris Costume?
Scott: "Without question, the décor side of the business is going very, very well. People still want to decorate their homes and yards. And I have a number of customers talking about doing drive-by haunts. So I think the décor side of the business will end up being very good for the season."
Ed: How do you develop the décor products you manufacture?
Scott: "We have a number of people internally who come up with ideas, and a lot of the guys in the haunted house business are very creative and we tweak those ideas into something that is viable for the commercial side of the business. One of the biggest challenges is how to create this action and look at the right price point. You start with all the bells and whistles that you want, but back off to where it's marketable."
Ed: What successful décor pieces have you developed recently?
Scott: "Reaper's Ride, a reaper character on a horse is about $499. I think pieces like that are very important to stores, because they need something to draw a customer into the store. I had a customer two days ago email me and said they got a couple of props from us without the retail box. I said they shouldn't stay in the box anyway! You have to create that experience for the customer."
Ed: Morris also distributes costumes. How is that business going?
Scott: "We haven't seen the uptick in costumes yet. I think the biggest problem is there's not the big Hollywood movie to drive a lot of the costumes. But I do think the costume side will pick up – I'm very positive on Halloween."
Ed: What's the advantage for a store to buy costumes from Morris rather than directly from the manufacturer?
Scott: "Our prices are pretty competitive. Obviously, if someone gets a discount from the manufacturer I can't compete, but if someone calls up and says, "I need two of this and two of that, and I need fast delivery…." we can do that, but the manufacturers can't."
Ed: Any final words of wisdom to NCA members?
Scott: "They need to have something different in their stores to be exciting to customers. Without that, the customer loses the excitement and the reason to go to the store. I think they need positive feedback that life is continuing and Halloween is happening and don't give up!"
Morris Costumes is one of eight NCA vendor members which have supported the association's Help Halloween Happen campaign.
To read this interview in full, please click here.