Following a successful three days of business, H&P Expo 2020 has been declared 'a great success' by sponsors Party Club of America, Paper First Affiliates and the National Costumers Association as well as show organisers Clarion Events.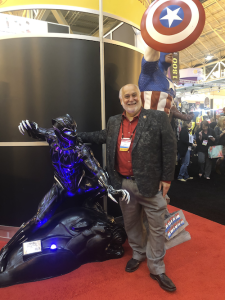 The show concluded on Sunday 19 January in its usual home of New Orleans, where it was attended by buyers and distributors from across the globe. The 2020 show was co-located with popular haunt exhibition HauntCon for the third successive year.
Clarion Events has confirmed that the show will now hit the road and is making its first stop in Dallas, Texas in 2021, with H&P Expo leaving New Orleans on a high-note of good footfall, well-attended conferencing and speakers and the much-loved Brewing Boos and Booze party,
Show highlights for this year included the use of Smart Event technology, which allowed buyers to 'tap' their badge at each stand they were interested in. They then automatically received a daily digest of the companies they had visited, complete with catalogues and other information.
Liz Irving, SVP marketing at Clarion Events said: "It was a great way to keep track of who buyers saw and the products they wanted to look at further, but it was also helpful for exhibitors to capture leads and have immediate follow up."
Howie Beige, president of Rubie's, confirmed Liz's comments, saying: "Both the Match programme and Smart Event technology are something we take part in and it seems to be paying off. We've got some great and brand new accounts out of those programmes."
Howie also stated that the show 'has been better than last year', saying: "It seems like there's higher attendance which could well be due to the upcoming Halloween taking place on a Saturday night. The show specials that we have been running have also been getting a tremendous amount of support from customers coming to the show. I do think it is a good move for the show to change location, as we will surely see some new customers who will be closer to Dallas."
"We've been here (in New Orleans) for five years and the move to Dallas gives us an opportunity to try new things and experience new ideas," said Mike Carlucci, svp sales at Clarion Events.
"Dallas has changed dramatically as a city over the last ten years, and it is now a force in the convention space. New Orleans has been amazing to us but we're gong to try some new things – exhibitors and buyers are really engaged about the move and have given positive feedback."
Halloween & Party Expo 2021 will take place on January 22 – 24 at the Kay Bailey Hutchison Convention Centre in Dallas.
The full interview with show organisers Clarion Events can be seen here: