Howard Beige, the executive vice president of Rubie's Costume Company, was presented with a lifetime achievement award by Disney at the licensor's annual retail showcase, which took place at Kings Place in London on Wednesday this week.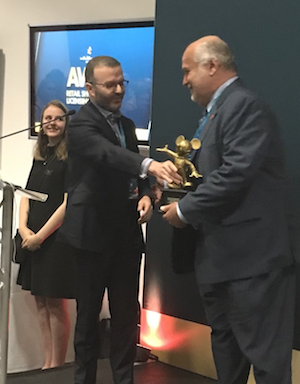 Howard – or Howie, as he is better known – is the executive vice president of Rubie's Costume Company and has been working closely with Disney for many years. He was presented with the prestigious award by Simon Phillips, The Walt Disney Company's executive vice president and general manager, consumer products.
"Disney has been a tremendous partner for Rubie's throughout the world.  It's always a pleasure working with such a collaborative and professional team," commented Howie.
"We look forward to building the Disney brands and working together in the years to come!"
Along with his elder brother and sister, Howie is a joint owner of Rubie's Costume Company – the world's largest manufacturer and distributor of dress-up costumes and accessories, which was originally founded by his mother Tillie and father Rubin (Rubie) over 60 years ago as a candy store in Queens, New York. His own sons, David and Michael, are now also in the business, ensuring the continuation of the Beige dynasty.
Howie is responsible for global sales and licensing across the entire business. He started as a salesman, travelling around the US every year to sell the company's products to his retail customers in a Winnebago, which acted as both his showroom and his motel during the critical Halloween selling period.
Responsible for signing one of the company's first licensing deals with George Lucas himself over 30 years ago, Howie has since driven the growth of Rubie's unrivalled licence portfolio.
Rubie's European relationship with Disney began with High School Musical in 2006 and has now extended to the entire Disney and Marvel portfolio, as well as Lucas Films.
See the PartyWorldwide.net breaking news story from Wednesday to read more about the Disney event itself.