Party, costume and balloon supplier Amscan has launched a brand new collection of fashion-influenced lines in time for this year's Halloween season.
The new range of costumes and outfits are available in a range of designs and styles which offer party-goers the opportunity to get in the spirit of the occasion without going 'full fancy dress'. The designs are perfect for anyone looking to make a statement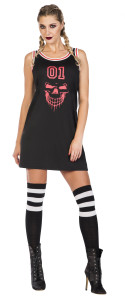 "We are excited to announce our new Halloween apparel range," said Jen Wilson, head of marketing. "It is different from our traditional costume product line and these apparel items are perfect for those individuals looking to add a hint of Halloween style to their October 31st look. They are so versatile they'll suit however your customers are celebrating this year"
"We wanted to create a range that has all the fun of Halloween, with items that could be dressed up or dressed down," added costume designer Lily Olley. "Something that could be styled to suit individual tastes. We have landed on a range that enables you to go from office to bar, in true Halloween style! Perfect pieces for anyone who wants to dress up, but doesn't want to 'dress up' – and great for the 'gram!"
If you are interested in stocking and distributing this range, please contact sales@amscan-uk.co.uk for further information.